General information Camera systems
If camera technology serves safety and efficiency, the user must see its advantage "clearly and distinctly".

Therefore, Orlaco, as a supplier for Griptech, focuses on the best image quality in order not to put additional strain on the drivers, but to quickly engage with this support through high image sharpness and color depth. Orlaco camera systems realize images with an invisible delay and without image judder. This reduces the strain on the user and reduces fatigue. The monitor features a light-refracting display and a protection class that is the same for all common monitors. A light sensor automatically adjusts the backlight to the environment. All components are tested during series production for vibration, shock resistance and the standard EMC test according to automotive regulations.
Sophisticated HD digital technology
Orlaco develops high resolution HD digital technology for all intensive and demanding environments. The new HD cameras are designed to meet the needs of a wide range of applications for material handling equipment and, in addition to the high flexibility of use, also offer all the automotive requirements under continuous load. The image quality ensures unrestricted acceptance for work support tools by all users. Thanks to the newly developed digital mast cable, the HD cameras can now also be used on fork carriers or attachments.
Griptech can install camera systems at your site by our own technicians. In the factory we integrate the camera technology on the KOOI®-Reachforks and also on our attachments.
Everything from one source!
See more is more ergonomic and efficient work
MONITOR
Highest component quality in high-quality housings, which are characterized by their compact design. The high-quality RAM mount and different mounting plates ensure fast and uncomplicated installation. Up to 5 cameras can be switched manually via a monitor or via control signals. The cable output can be rotated 180° without much effort.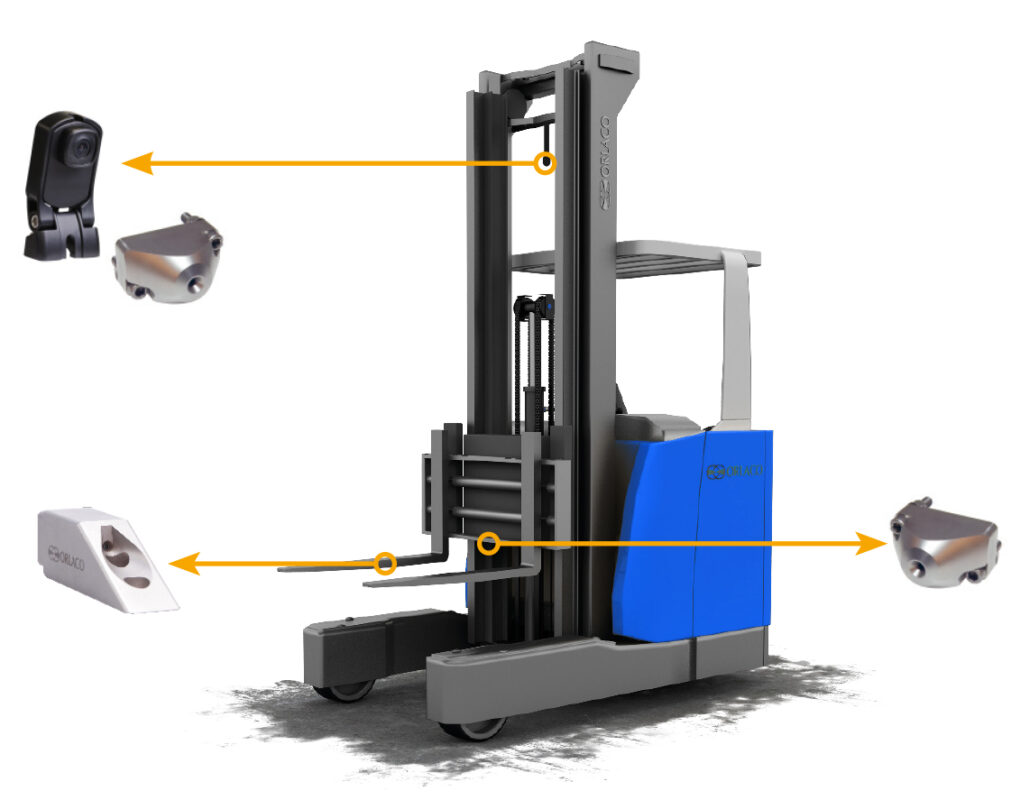 CAMERA
The different viewing angles of the cameras allow the best adjustment for your application. For the compact cameras, the round design allows an optimal and also in the aftermath fast alignment. With a 2 mm lens hole, we achieve 52° horizontal viewing angle, which is unique and offers the highest protection in tough operating conditions. Digital cameras are also available from this year. 
SIGNAL TRANSMISSION
In addition to the clearly favored mast cable, we also offer other transmission types such as cable line drums, spiral cables or radio systems. Due to the many years of development of mast cables and the resulting experience, we always recommend a mast cable installation or a combination with spiral cable. The lower acquisition costs and the non-existing maintenance effort, as well as no loss of image quality due to irradiation confirm us in our opinion.
For many forklift types, we also offer multi-function mast cables to use the rollers located in the mast or to exchange them for an existing mast cable. In this case, the functions on the fork carriage are taken over by our cable.