HD technology
High resolution image even in the most difficult conditions
NOVELTY - DIGITAL CAMERA TECHNOLOGY
The newly designed free lift holder, with the flexible mounting plate on the upper crosshead, which allows off-center displacement, the freely shortenable tube and the freely adjustable heights, offers the best possible mounting position for the camera. In addition, the camera can be adjusted horizontally to allow the viewing angle and thus a clear view during storage and retrieval.
Thanks to the flexibly adjustable free lift holder, the camera can significantly improve visibility at fork blade height or below the forks when extending and retracting.
Free lift holder below the forks, retracted.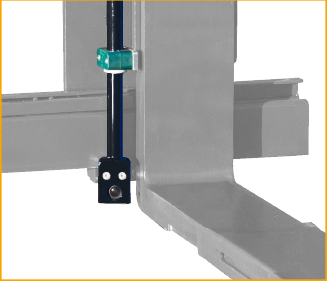 Orlaco has been developing digital cameras and monitors for a long time. The result is excellent color depth, contrast and a real-time image in HD quality.  
Through the development of digital mast cables, we are now able to transmit the highest image quality from the fork carriage via the mast.
Due to the slim design (only 27 mm deep) of the HMOS cameras and the high selection of viewing angles (30°, 60°, 90°, 120°, 180° and 270°), there are numerous possible applications on the fork carriage of the fork tine and also as a free lift camera.
Fork bend bracket adjustable in height and angle.
See more is more ergonomic and efficient work
MONITOR
Highest component quality in high-quality housings, which are characterized by their compact design. The high-quality RAM mount and different mounting plates ensure fast and uncomplicated installation. Up to 5 cameras can be switched manually via a monitor or via control signals. The cable output can be rotated 180° without much effort.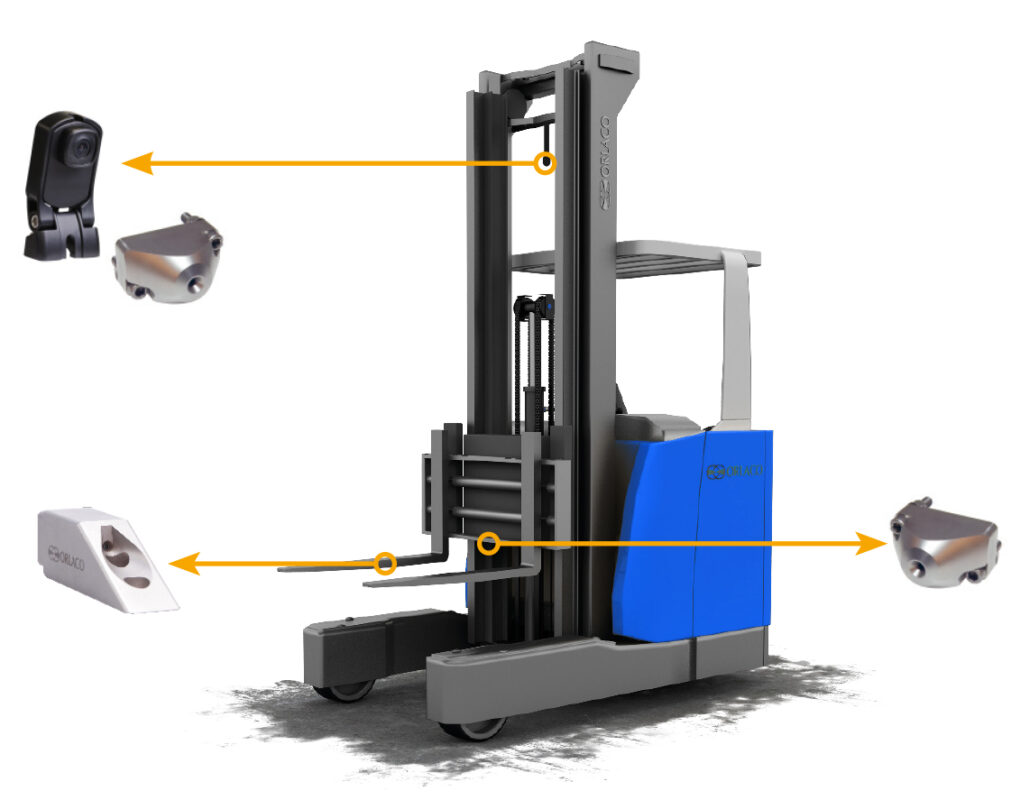 CAMERA
The different viewing angles of the cameras allow the best adjustment for your application. For the compact cameras, the round design allows an optimal and also in the follow-up quick alignment. With a 2 mm lens hole, we achieve 52° horizontal viewing angle, which is unique and offers the highest protection in tough operating conditions. Digital cameras are also available from this year. 
SIGNAL TRANSMISSION
In addition to the clearly favored mast cable, we also offer other transmission types such as cable line drums, spiral cables or radio systems. Due to the many years of development of mast cables and the resulting experience, we always recommend a mast cable installation or a combination with spiral cable. The lower acquisition costs and the non-existing maintenance effort, as well as no loss of image quality due to irradiation confirm us in our opinion.
For many forklift types, we also offer multi-function mast cables to use the rollers located in the mast or to exchange them for an existing mast cable. In this case, the functions on the fork carriage are taken over by our cable.